Quick-Drain Systems
System designed for safe, cost effective disposal of infectious liquid waste
---
Quick-Drain Systems provide an efficient solution for effective control in the disposal of liquid waste.
Easy to use operations, with no electricity required to operate
Designed to work with Hi-Flow and Contour rigid canisters, Quick-Fit liners, with available adapter configurations for large volume canisters 12000cc and up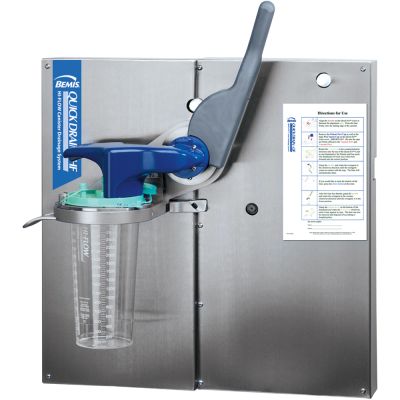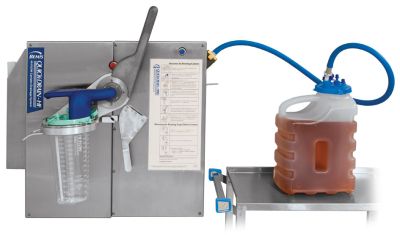 Features & Benefits
Control Safety
QUICK-DRAIN Systems provide safeguards to protect staff by:
Confining liquid infectious waste and isolating bloodborne pathogens, decreasing risks to staff by bloodborne pathogen exposure
Eliminating risks associated with solidifier chemical exposure
Complying with the OSHA Bloodborne Pathogen Standard*
Control Costs
QUICK-DRAIN Systems reduce associated waste disposal costs by:
Disposal of rinsed canisters in regular trash instead of red bag (where regulations allow)
Eliminating per-use costs such as solidifiers
Reducing staff time with rapid disposal rate (up to 500cc per second)
Recouping changeover costs in a matter of months, not years
Control Waste
QUICK-DRAIN Systems protect the environment by:
Reducing landfill waste and contamination in accordance with EPA, CDC and NIOSH guidelines.*
*Sources: OSHA Bloodborne Pathogen Standard, 29 CFR 1910.1030, EPA Guide for Infectious Waste Management, CDC Infectious Waste, Hospital Infectious Program, Jan. 21, 1997. NIOSH Guidelines for Protecting the Safety and Health of Health Care Workers "Hazardous Waste Disposal", April 28, 1998.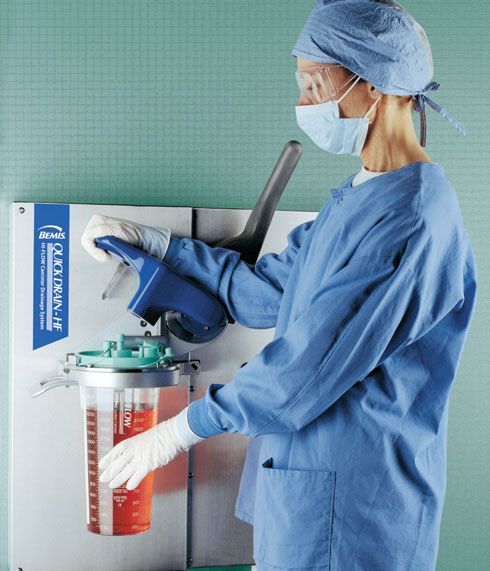 Safety Latch
Once the Bemis canister or liner has been placed onto the unit, the swing arm is locked in place until the drainhead is fully engaged to the cover.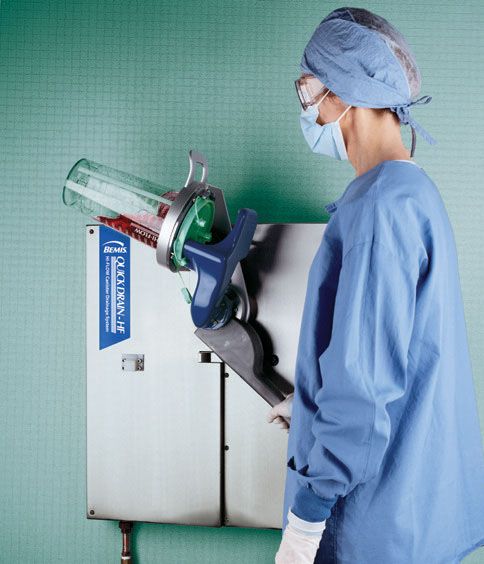 Drainhead Lock
During the draining process, the drainhead is locked onto the cover to form a leak-proof seal.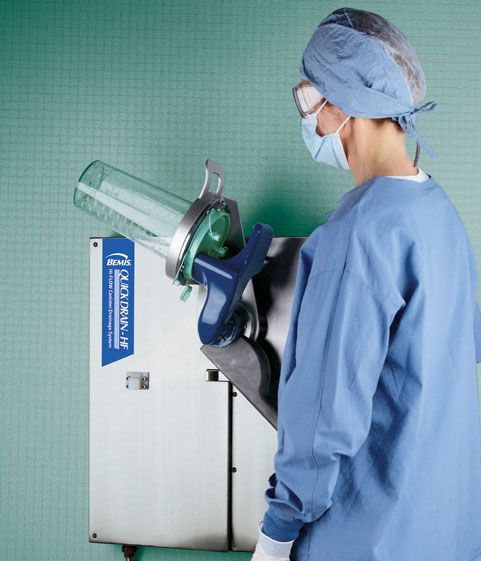 Rinse Feature
Built-in rinse feature allows the option of spraying water into the liner or canister to clean out any remaining waste.
Testimonials
Our facility is using the Bemis Quick–Drain System with excellent results. This is an inexpensive way to handle Bio medical waste and reduce costs. We have our Bemis system in the decontamination area and when cases are turned over the canisters are taken to decontam where the canisters are drained and the used canister put into the regular waste system. Savings are running about $1.25 per can versus the old method of solidification and biohazard waste disposal. For a surgery center this saves easily $10,000 per year.

At my previous hospital, I did a proforma showing that Quick–Drain would generate around $30,000 of savings for the OR and around $50,000 if the entire hospital were using the system.

Administrator
Madison Surgery Center
Madison, AL

We saw an article advertising the Bemis Quick–Drain in one of the purchasing magazines, which caught our eye. Our hospital had been pouring and nurses would have to pull off the tops of canisters and dump liquid down a hopper. There was always the chance of splash. We were most interested in the fact the nurses would no longer have to empty these canisters - which is what we found to be true.

Operating the Quick–Drain is very simple. You put the canister on the machine, turn a handle and the liquid is flushed down the drain. You can then flush the canister with water if it is needed and there are no remains of fluid. Nursing was VERY pleased with this outcome.

The Quick–Drain is very easy for our personnel to use. We deliver our canisters to Decontamination, and whoever is working (in our case all female employees) can easily use the equipment. Strength is not an issue with using Quick–Drain.

Maintenance of equipment is minimal. We put an enzymatic cleaner in at the end of a shift and we have no problems with maintenance or odor.

The feature we liked from a Materials Management standpoint is we have reduced our red bag trash costs considerably because once the canister is flushed we put it into regular trash. We have literally saved thousands of dollars because of this. We also had a cost savings on the canisters from what we were using. We are extremely satisfied with our decision to go with Quick–Drain because it has been a financial savings to our hospital as well as being a great safety factor for our nursing personnel. A wonderful, yet simple piece of equipment to enhance our working environment.

Buyer Manager
Sterile Processing
Firelands Hospital
Sandusky, OH

We have been using the Quick–Drain System for about a year and a half and are very pleased it. We wanted a way to eliminate exposure to solidifier chemicals and with Quick–Drain, the staff feels much safer. It is very simple to use and takes a minimal amount of time to drain the contents from the canister. There are no extra devices to add to drain a standard canister — just put the canister in the holder, snap on the top and flip the handle — and you're done. In addition to improved staff safety, we are saving money. We have saved an estimated $20,000 per year by being able to limit the waste disposal volume and eliminate the use of a solidifier.

We are a test site for the large volume adapter version and it is working great for emptying our large volume canisters.

Manager
Surgical Services
Aurora Medical Center Manitowoc County
Manitowoc, WI

Several years ago our hospital was looking for a solution to our waste disposal issues. In our 46 ORs, we perform 120-130 cases daily, which generates a lot of waste. Before we switched to Quick-Drain we were putting our full canisters into red bags, which were boxed and picked up by a medical waste hauler. Not only were there constant leakage issues, but this method was getting really expensive.

Our evaluation committee looked at all the competitive systems. We decided on Quick-Drain because it appeared to be the easiest to use, the most efficient from an operational point-of view, and the most cost effective, so the decision was easy.

We were able to save $900,000 a year in disposal costs. Our red bag waste was significantly reduced because the rinse feature allows us to put 99% of the canisters into white bag waste. Infection Control was happy because of no more leaky bags and boxes, and the staff likes it and finds it very easy to use. And, we were able to automate the daily maintenance requirements by installing an automatic enzymatic solution dispenser on each unit, which flushes the system regularly.

What impressed us the most was the conversion. It went very smooth given the size and magnitude of the process. Bemis provided all the hardware and support and worked round the clock to in-service the entire staff.

We couldn't be happier with the Quick–Drain and would recommend it to anyone.

Director of SPD
The Mount Sinai Hospital
New York, NY
QUICK-DRAIN™ SYSTEMS
QUICK-DRAIN™ ACCESSORIES
| | Product/Description | Catalog # | Packaging |
| --- | --- | --- | --- |
| | Reusable Drain Hose | QDLVRH | 2/CASE |
| | 19" Disposable Dip Tube | QDLVDT19 | 100/CASE |
| | 15" Disposable Dip Tube | QDLVDT15 | 100/CASE |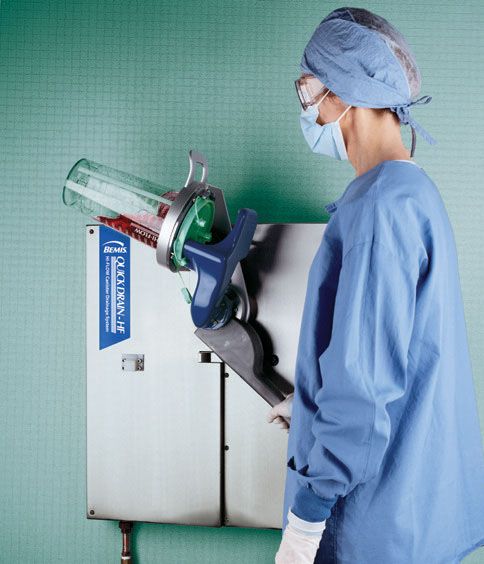 Disposal Methods
Bemis rigid canisters are disposable and designed for single use only. Quick-Fit liners are disposable with a reusable outer canister. Disposal methods vary by state, municipality, and facility and may include:
Using a fluid management system like Bemis QUICKDRAIN™ to safely drain fluid waste into the sanitary sewer
Pouring fluid down a hopper into the sanitary sewer system (not recommended)
Placing full, capped canister into red bag waste
Adding a solidifier and disposing of canister into red bag waste
Incineration
Product Videos
Quick–Drain™ System

Quick–Drain™ Quick-Fit Operation

Quick–Drain™ High–Flow Operation

Quick–Drain™ Large Volume Operation

Quick–Drain™ Installation

Quick–Drain™ Large Volume Installation
---
Easy Installation
The QUICK-DRAIN Systems connect to existing plumbing and require wallspace of approximately 36" wide by 60" high. Units are 15" deep, requiring minimal clearance area. Installation requirements include:
Wall capable of supporting 150 lb. static load.
1/2" water line with a minimum of 40 psi pressure.
Connection for a 1" PVC pipe to sanitary sewer.
Backflow preventer for input water line that is compliant to local plumbing regulations.